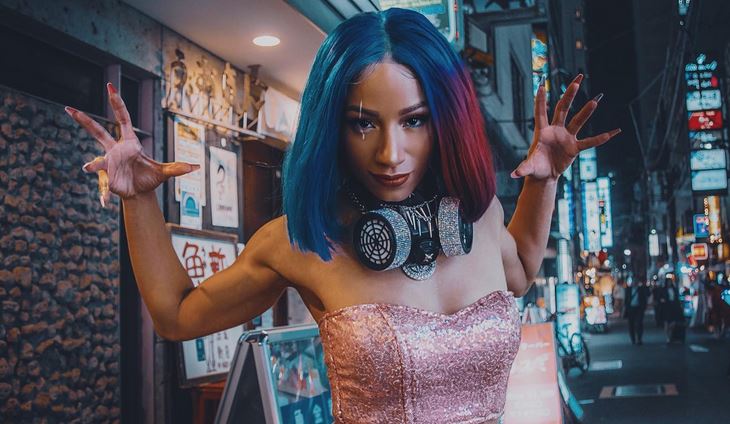 9 mins read
Mercedes Moné: A Journey in Wrestling
Mercedes Justine Kaestner-Varnado, born on January 26, 1992, is a prominent American professional wrestler who has left an indelible mark on the wrestling industry. From her humble beginnings on the independent circuit to her notable time in WWE and her current endeavors with New Japan Pro-Wrestling (NJPW), her journey has been one of triumphs and achievements.
The Early Years
Mercedes Justine Kaestner-Varnado was born on January 26, 1992, in Fairfield, California. She is the daughter of Reo and Judith Varnado. Her family has diverse roots, with her mother being of German descent and her father being African-American. In search of better educational and medical opportunities for her autistic brother Joshua, the family relocated several times, including a stay in Minnesota.
 Eventually, they settled in Boston, Massachusetts, where Mercedes embarked on her journey in professional wrestling. Despite her unconventional schooling through online education, she developed a passion for wrestling by watching All Japan Women's Pro-Wrestling (AJW) as she grew up.

Must Read: Steel Detailing Jeemon VG: How To Learn Steel Detailing?
WWE debut as Sasha Banks and rise to fame
In 2012, Varnado's talent caught the attention of WWE, leading her to sign with the company. She adopted the ring name Sasha Banks and embarked on her journey in WWE's developmental territory, NXT. There, she secured the NXT Women's Championship, showcasing her prowess within the squared circle.
Trailblazing Achievements and Defining Moments
The partnership between Sasha Banks and Bayley birthed historic moments in WWE. Their match at NXT TakeOver: Respect in 2015 made history as the first women's match to headline an NXT TakeOver event. It also marked the inception of the first Iron Woman match in WWE history, a match that endured for 30 minutes. 
The accolades continued as Pro Wrestling Illustrated (PWI) crowned their bout as the Match of the Year, with Varnado receiving the coveted Woman of the Year title.
Triumphs and Milestones of the Main Roster
Varnado's transition to WWE's main roster in 2015 catapulted her to new heights. She seized the Raw Women's Championship on five occasions, cementing her status as a force to be reckoned with. Her partnership with Charlotte Flair carved a trailblazing path as they became the first women to headline a WWE pay-per-view event and compete in a Hell in a Cell match. Their remarkable rivalry earned them the prestigious PWI Feud of the Year award in 2016.
Must Read: Choice Home Warranty George Foreman: Protecting Your Home With Confidence
A champion across all divisions
Varnado's championship legacy expanded across divisions. She secured the inaugural WWE Women's Tag Team Championship with Bayley at the Elimination Chamber pay-per-view in 2019. Her accomplishments continued to grow as she clinched the SmackDown Women's Championship at the Hell in a Cell pay-per-view in 2020. This victory marked her status as a Women's Grand Slam Champion and Triple Crown Champion, solidifying her place in wrestling history.
A Diverse Legacy
Beyond her wrestling endeavors, Varnado showcased her versatility by portraying Koska Reeves in the popular Disney+ series, The Mandalorian. This diversification of her skills added another layer to her already multifaceted persona.
Mercedes Moné: A New Chapter
2022 witnessed a shift in Varnado's journey as creative issues led to her departure from WWE. Unable to negotiate a new contract, she found a new platform in New Japan Pro-Wrestling (NJPW) and its sister promotion, World Wonder Ring Stardom. Her debut under the ring name Mercedes Moné at Wrestle Kingdom 17 in January 2023 signaled a fresh chapter in her storied career.
During my early career (2010-2012), I worked for Mercedes KV in February 2012.
Kaestner-Varnado's wrestling journey commenced with training at Chaotic Wrestling (CW) in Woburn, Massachusetts, back in 2008.[citation needed] Competing as Mercedes KV, she clinched the Women's title by defeating Alexxis in an "I Quit" match. This victory earned her a title reign of 259 days, but she eventually vacated the championship upon signing with WWE. Between 2010 and 2012, she also showcased her skills in New England Championship Wrestling (NECW) and National Wrestling Alliance (NWA).
(2012-2014) WWE Debut and The BFFs Era
In June 2012, Kaestner-Varnado grabbed a WWE tryout opportunity, leading to her contract signing announced on August 18. Assigned to WWE's developmental territory NXT, she adopted the ring alias Sasha Banks and marked her televised NXT debut on December 12, facing off against Paige and experiencing defeat. Banks was soon drawn into a storyline where she received mysterious letters from an admirer, later revealed to be Audrey Marie. A feud ensued, culminating in Banks' loss to Marie.
As her NXT journey unfolded, Banks encountered a series of pivotal moments. She suffered a setback in the NXT Women's Championship tournament and then turned heel after clashing with Paige. The emergence of her persona as "The Boss" took place as she teamed up with Summer Rae under the moniker The Beautiful, Fierce Females (BFFs).
Bayley and Mercedes want another match
Mercedes Moné is eager for a rematch against Bayley, commemorating the eighth anniversary of their historic NXT clash. Taking to X, formerly known as Twitter, Moné shared a photo of herself and Bayley, accompanied by a heartfelt message expressing her aspiration to reunite in the ring with Bayley in the future.
Back on August 22, 2015, Moné, then known as Sasha Banks, defended her NXT Women's Championship against Bayley at NXT TakeOver: Brooklyn. Despite not being the main event, their match stole the spotlight, earning a reputation as one of the greatest women's wrestling battles ever witnessed.
In the current year, Mercedes Moné bid farewell to WWE and embarked on a new chapter with New Japan Pro-Wrestling. Swiftly, she captured the IWGP Women's Championship, although she temporarily relinquished the title due to an injury.
On the other hand, Bayley maintains her presence within WWE, being part of the trio Damage CTRL alongside Dakota Kai and the newly crowned WWE Women's Champion, Iyo Sky.
Stardom in New Japan Pro-Wrestling (2023-Present)
After much anticipation, Varnado made her highly anticipated debut for New Japan Pro-Wrestling (NJPW) during Wrestle Kingdom 17 on January 4, 2023. Under the new ring name Mercedes Moné, she made a powerful entrance by confronting and attacking the reigning IWGP Women's Champion, Kairi. Moné proudly announced her affiliation with both NJPW and its sister promotion, World Wonder Ring Stardom.
This fiery introduction set the stage for a showdown between the two at Battle in the Valley on February 18,[229] resulting in Moné defeating Kairi and claiming the IWGP Women's Championship title for herself.
Her first title defense took place at Sakura Genesis on April 8, where Moné emerged victorious in a three-way match against opponents AZM and Hazuki.[231] Following this match, Mayu Iwatani stepped up to challenge Moné for the championship title at Stardom All-Star Grand Queendom. The event marked a significant turning point, as Moné lost the IWGP Women's Championship to Iwatani, concluding her reign after 64 days.[
At Resurgence on May 21, Moné participated in a tournament to determine the inaugural Strong Women's Champion. She secured a spot in the finals by defeating Stephanie Vaquer but faced defeat against Willow Nightingale in the championship match. Unfortunately, Moné suffered an ankle injury during her encounter with Nightingale.
AEW star Britt Baker sets sights on dream match against Mercedes Mone
In a surprising twist, AEW star Britt Baker has expressed her keen interest in a dream match against the former WWE Women's Champion, Mercedes Moné, scheduled for Forbidden Door 2024 next year. During an interview on Not Just Football with Cam Heyward, Baker commended Moné's remarkable talent and eagerly anticipated her return to the wrestling scene following her injury.
Baker shared her thoughts, stating, "We all remember the prominent female wrestler formerly known as Sasha Banks, now recognized as Mercedes Moné. She's making waves across the circuit. Despite her injury, there's widespread anticipation for her resurgence in the wrestling world. Given her departure from WWE, she's free to chart her own course.
Conclusion
Mercedes Moné, formerly known as Sasha Banks, stands as a symbol of innovation, achievement, and trailblazing in the world of professional wrestling. Her journey from independent circuits to global recognition, her trailblazing moments in WWE, and her continued success in NJPW/Stardom highlight her enduring impact on the wrestling landscape.